Warm sun and clear skies perfectly describe the Good Morning! we enjoyed from Little Tibet today. At dawn there were already visitors kitted out with rucksacks and walking shoes wandering along the many pathways in the area in order to spend time enjoying nature with their families.
Among these were Davide, Elisabetta and their children: "Livigno was where we came on our first holiday as a couple and, today, as our family has grown, we still find it is the perfect place for our holidays. We know we'll be able to enjoy happy, carefree, relaxing days here, having enormous fun with our children. The bond we have with this place is inexplicable - it stems from our hearts and reconciles perfectly with our minds."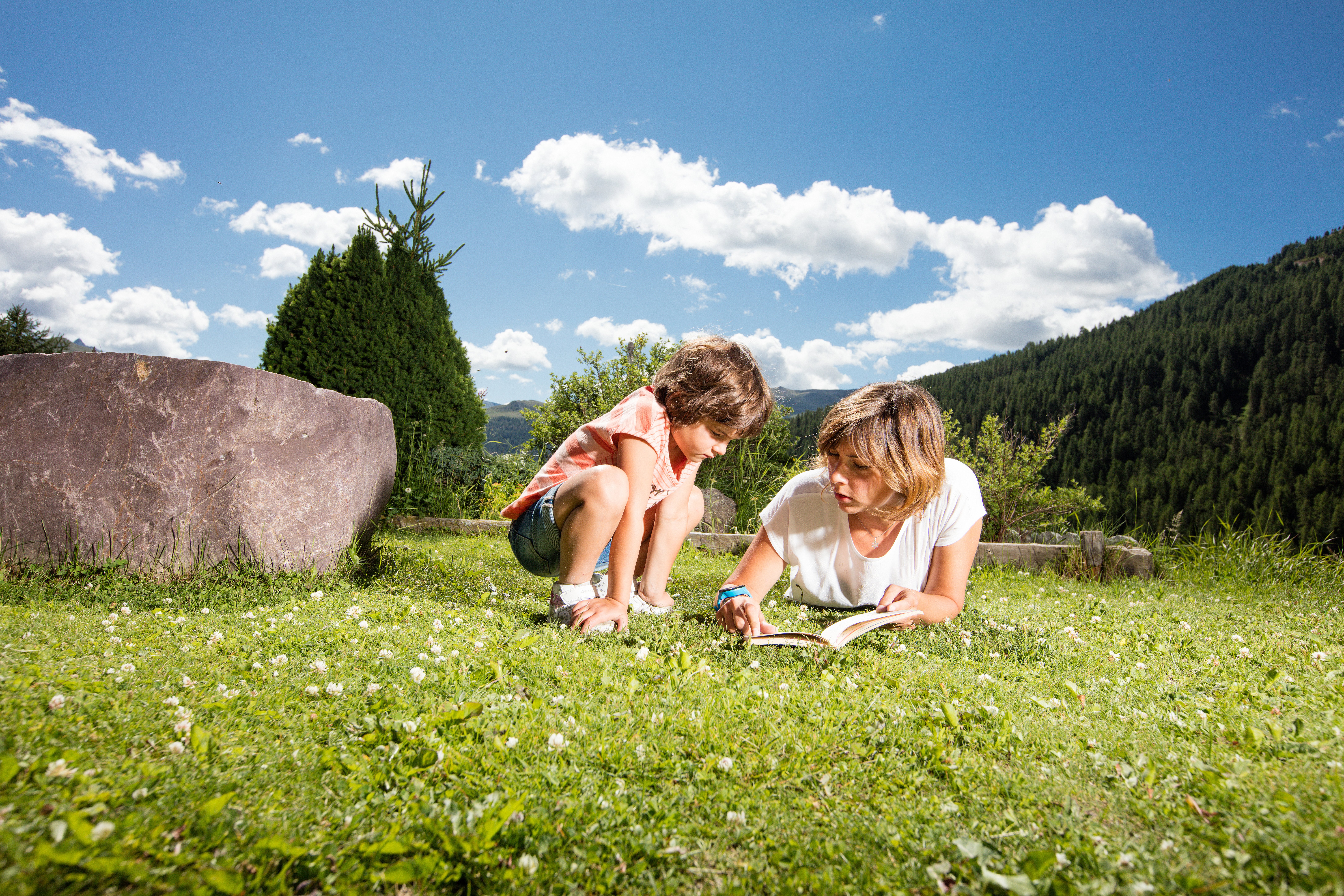 And that's exactly how it is. Livigno welcomes visitors with a smile and has all sorts of surprises and events for families this summer too, including Family week - Kids go Free! What is this all about? Well, anyone staying in Livigno between 6th and 13th July 2019 will be able to enjoy an entire week specifically dedicated to families and their children - aged 3 to 12. Indeed, little ones will have free access to Lupigno Kinderclub, and be able to take part in fun, constructive activities such as outdoor games, creative workshops and nature walks, accompanied at all times by experienced, qualified staff.
Family Hotels and Family Apartments are ideal for anyone staying in Livigno with their whole family. These amazing facilities feature baby-sitting services, paediatric assistance, play areas, children's menus, and laundries. Moreover, strollers, bikes with child seats, rucksacks and sledges are all available to use. Just remember, it's not a holiday without a Livigno Card, different versions of which are available, including one for families. Said Card gives you access to a whole range of advantages and exclusive discounts, and also special activities such as family-friendly walks, which will take place twice a week this summer, too. They offer families a wonderful opportunity to engage in healthy activities with the people they love, assisted by mountain guides. There are many different trails to follow, all of which are simply stunning.
Val Nera Setting off from the Alpe Vago farmhouse, you'll find yourself faced with two paths: 106 which follows the righthand side of the creek and 107 which follows the left. Regardless of which you choose, you'll walk completely surrounded by trees, breathe uncontaminated air and enjoy the nature that never ceases to amaze. At the end of Valle del Vago, there is a detour that leads to the undisputed leading feature of this route - a stunning, hypnotising waterfall which will leave you breathless. This is also where you may choose to rest, to enjoy a packed lunch perhaps or simply the sound of the water that will cradle you like only mother nature can. Continuing along path 106 towards Val di Campo you reach the Mera pass and Campo glacier.
Crap de la Parè: this time you set off from the Eira Pass and walk for around 40 minutes to reach an extraordinary destination - at 2390m a.s.l. you can enjoy Livigno from on high, embraced by its lake. I know I'm stating the obvious here, but be prepared to take dozens of photos - only after having touched the sky, though.
Sulphur Source: setting off from the P2 Viéira car park, you climb an iron ladder to go over the artificial tunnel of Strada del Gallo and reach the other side. From here, you take path 176. The first stretch takes you through the meadows, then on to a wonderful wood of larch and pine trees. Continuing along the path, which is easy for everyone, the natural landscape is both evocative and wild. Along the way you'll be able to see wild animals such as chamois, ibex and marmots which will keep you company until you reach the sulphur spring.
Once again on the topic of activities to do in direct contact with animals, there are a number of chalets where your children will be able to enjoy unique experiences like feeding adorable calves or milking cows. Head to Alpe Mine, Malga Vago or Alpe Livigno Agricultural Company - Tresgénda P6 for this.
Don't miss out on the cycle and pedestrian trail either, 17 kilometres to cover on foot or by bike, all of which are flat and feature plenty of playgrounds and picnic areas. Immerse yourself in nature and enjoy the most beautiful routes in Val Alpisella. All the activities to do at the lake start in this valley, including pedalo rides and a range of water sports.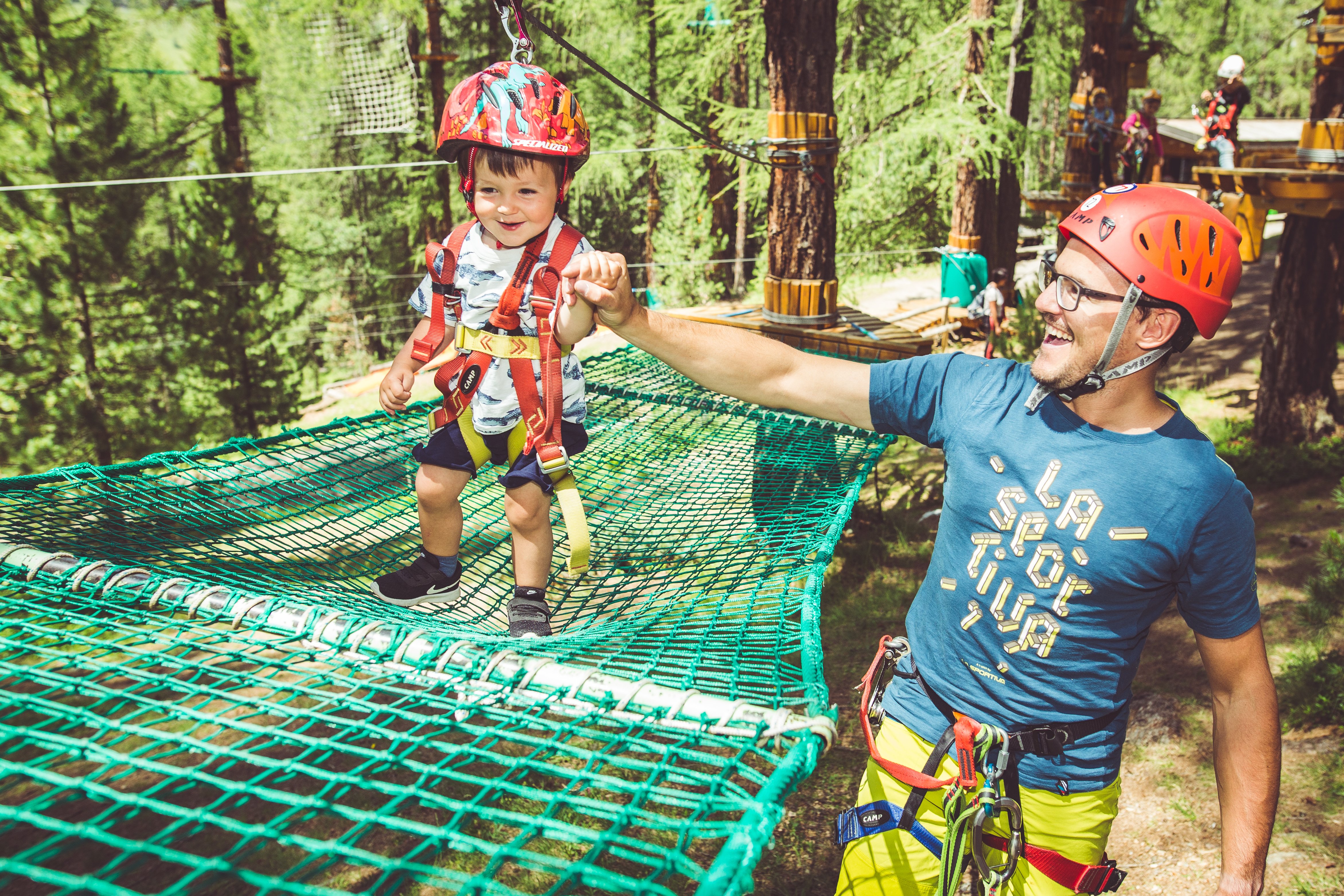 The bolder amongst you, those with the DNA of Indiana Jones, can all head to Larix Park! Adults and children will both enjoy the super fun adventure park surrounded by greenery. Choose from one of the eight routes of differing heights and difficulties, walk along hanging bridges and literally fly with the aid of pulleys and lianas. One great new feature for 2019 is the route dedicated to Yepi, Mottolino's mascot, who children and families had the chance to meet on the slopes during the winter. Two-wheel lovers, simply must try Bike Skill Center, the ideal place for getting familiar with mountain bikes and improving your technique, helped by qualified instructors. At the Carosello 3000 and Sitas Area Bike Academy you'll be able to learn mountain biking along a 4.9km route.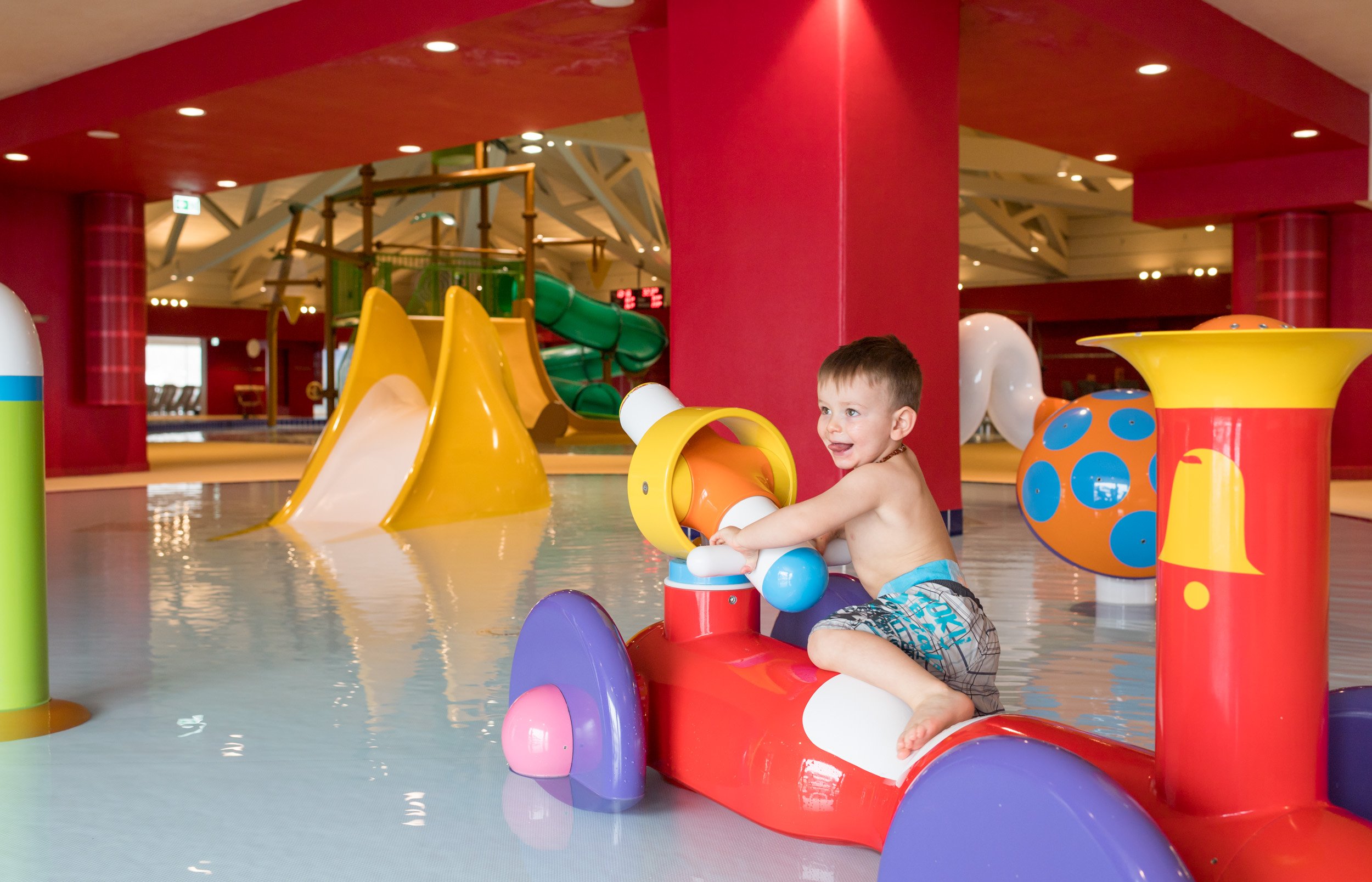 If you prefer slides to pulleys and bicycles, you'll want to head to Aquagranda Slide&Fun: consisting of a baby pool, a castle with slides, adrenaline packed water slides, whirlpools and water jets, it guarantees enormous fun for adults and children alike. Furthermore, by taking advantage of Family Week Summer and purchasing two entrances tickets for adults, you'll benefit from a free ticket for your first child and a 50% discount on your second (children born after 1st January 2017.
Walks, excursions, games, bike rides, water park and adventures are only a very small part of what awaits you in Livigno. Needless to say, you'll enjoy a holiday packed with pleasant moments to fill the memories of the whole family.