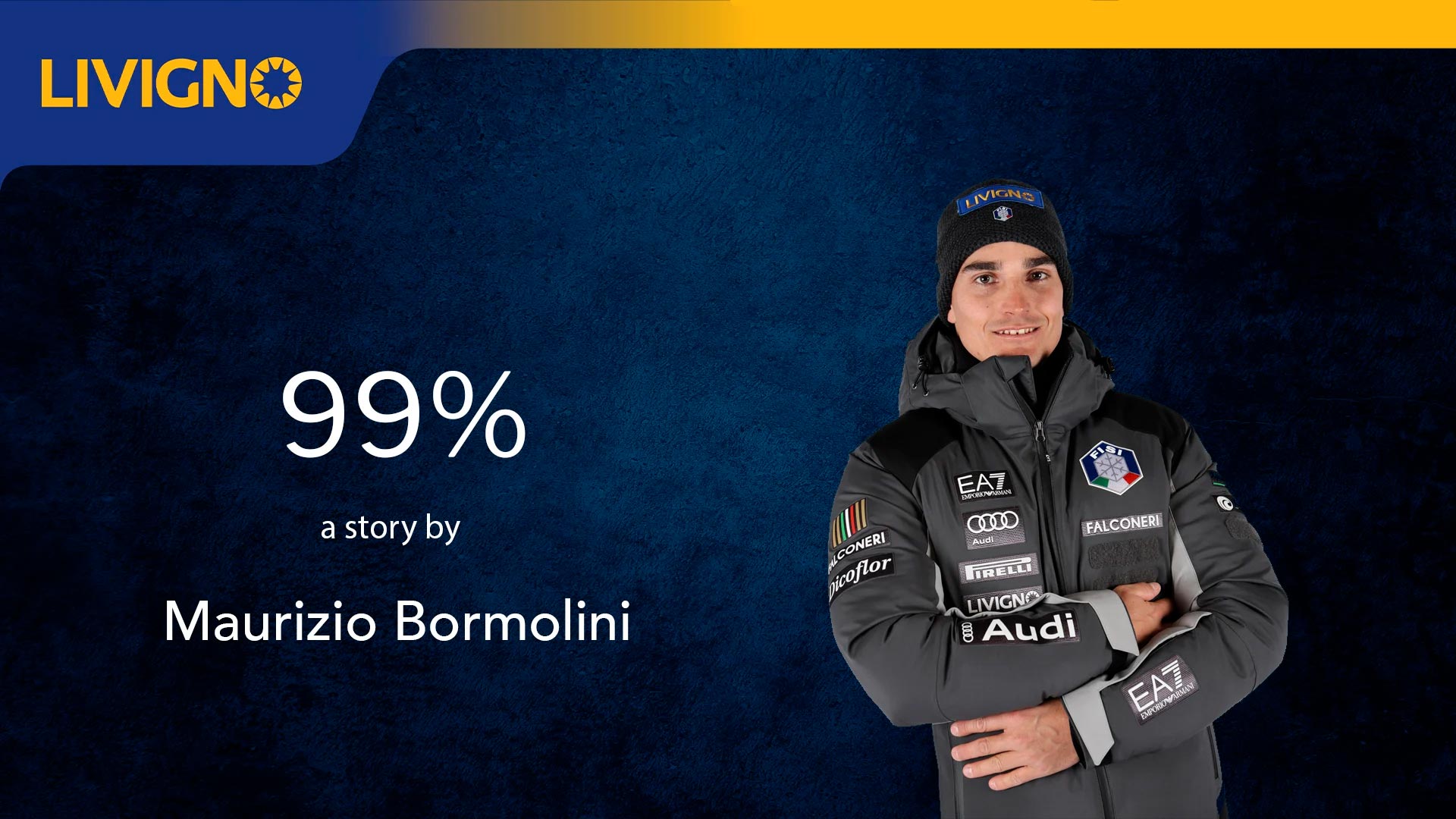 Livigno's snow is a different story.
It is a condensation of its essence, and of its spirit. It is unique.
Particular.
If I were a tourist, I would only come up there to ski and have fun, because you don't find snow like this anywhere else.
Different than elsewhere, different than everywhere else: the snow in Livigno is dry, without
moisture, perfect for the creative, the adventurous.
It is not very fast, but it is among those with the best grip in the world: it sticks to the ground, gives you grip, allows you to attack it.
It is the ideal travelling companion for those who want to pull perfect lines, feeling total control of the vehicle underfoot.
It is fun, like no other I have ever tried. Plus, of course, it's mine.

On that snow, I have been playing since I was a child, ever since brother Lorenzo and I used to get up to all sorts of mischief in the garage at home, hoping to get away with it.
There was also Andrea and Elisabetta, but the relationship between the two of us was unique.
Stronger.
We were great screw-ups, almost punks, but if they gave me the chance, I'd go back in a heartbeat. To start all over again and again.
Mischief included.
Andrea, our older brother, was a big motor enthusiast, and in a small shed behind the house, he kept his precious trials bike under lock and key.
It was a kind of sacred object, which we were not allowed to touch, the real pass to the adult world, and the day Lorenzo and I managed to steal the keys to the lock was like opening the door to a parallel universe.
I was in the third grade, my brother in the first, and we found a way to start the motorbike and started it up on the big lawn behind our parents' house.
I think Mum's screams made the whole valley tremble.
A bit like Dad's, when we smashed a 50-litre demijohn of his favourite wine, doing tricks with the skateboard.
Now, that's what I remember from childhood. I remember lightness and fun.

I remember outdoor games and sport. Football, biking and snow, our snow.

Dad was always into skiing, which is why I started with that. Then I discovered the board, and I didn't want to know anymore.
There's no other motivation than simply 'having wanted it'. And I never even needed a different motivation.
Snowboarding has always been mine, and mine alone. I was the first in the family. There's the whole weight of will, in that: I liked it from the start, I don't really know why, and the fact that it was my decision, my choice, automatically made it irreplaceable.
Part of my identity, I wouldn't have given it up for anything in the world.
"I want to do this", at the exact moment I said it out loud, it was true. And I didn't need a why.
Sometimes life is easy. Falling in love is easy.
And the love that needs no explanation is also the love that lasts the longest.