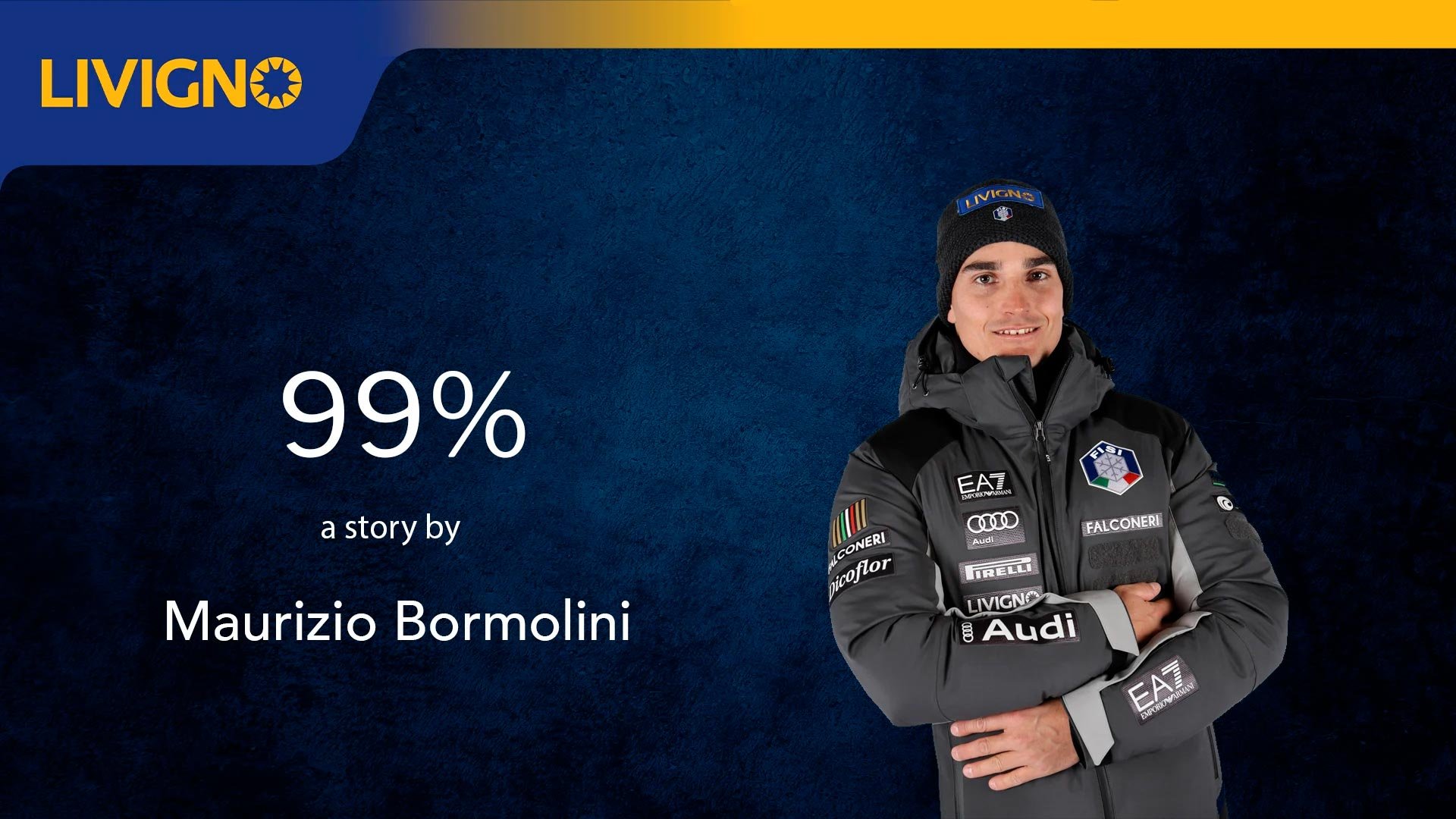 Livigno's snow is a different story.
It is a condensation of its essence, and of its spirit. It is unique.
Particular.
If I were a tourist, I would only come up there to ski and have fun, because you don't find snow like this anywhere else.
Different than elsewhere, different than everywhere else: the snow in Livigno is dry, without
moisture, perfect for the creative, the adventurous.
It is not very fast, but it is among those with the best grip in the world: it sticks to the ground, gives you grip, allows you to attack it.
It is the ideal travelling companion for those who want to pull perfect lines, feeling total control of the vehicle underfoot.
It is fun, like no other I have ever tried. Plus, of course, it's mine.

On that snow, I have been playing since I was a child, ever since brother Lorenzo and I used to get up to all sorts of mischief in the garage at home, hoping to get away with it.
There was also Andrea and Elisabetta, but the relationship between the two of us was unique.
Stronger.
We were great screw-ups, almost punks, but if they gave me the chance, I'd go back in a heartbeat. To start all over again and again.
Mischief included.
Andrea, our older brother, was a big motor enthusiast, and in a small shed behind the house, he kept his precious trials bike under lock and key.
It was a kind of sacred object, which we were not allowed to touch, the real pass to the adult world, and the day Lorenzo and I managed to steal the keys to the lock was like opening the door to a parallel universe.
I was in the third grade, my brother in the first, and we found a way to start the motorbike and started it up on the big lawn behind our parents' house.
I think Mum's screams made the whole valley tremble.
A bit like Dad's, when we smashed a 50-litre demijohn of his favourite wine, doing tricks with the skateboard.
Now, that's what I remember from childhood. I remember lightness and fun.

I remember outdoor games and sport. Football, biking and snow, our snow.

Dad was always into skiing, which is why I started with that. Then I discovered the board, and I didn't want to know anymore.
There's no other motivation than simply 'having wanted it'. And I never even needed a different motivation.
Snowboarding has always been mine, and mine alone. I was the first in the family. There's the whole weight of will, in that: I liked it from the start, I don't really know why, and the fact that it was my decision, my choice, automatically made it irreplaceable.
Part of my identity, I wouldn't have given it up for anything in the world.
"I want to do this", at the exact moment I said it out loud, it was true. And I didn't need a why.
Sometimes life is easy. Falling in love is easy.
And the love that needs no explanation is also the love that lasts the longest.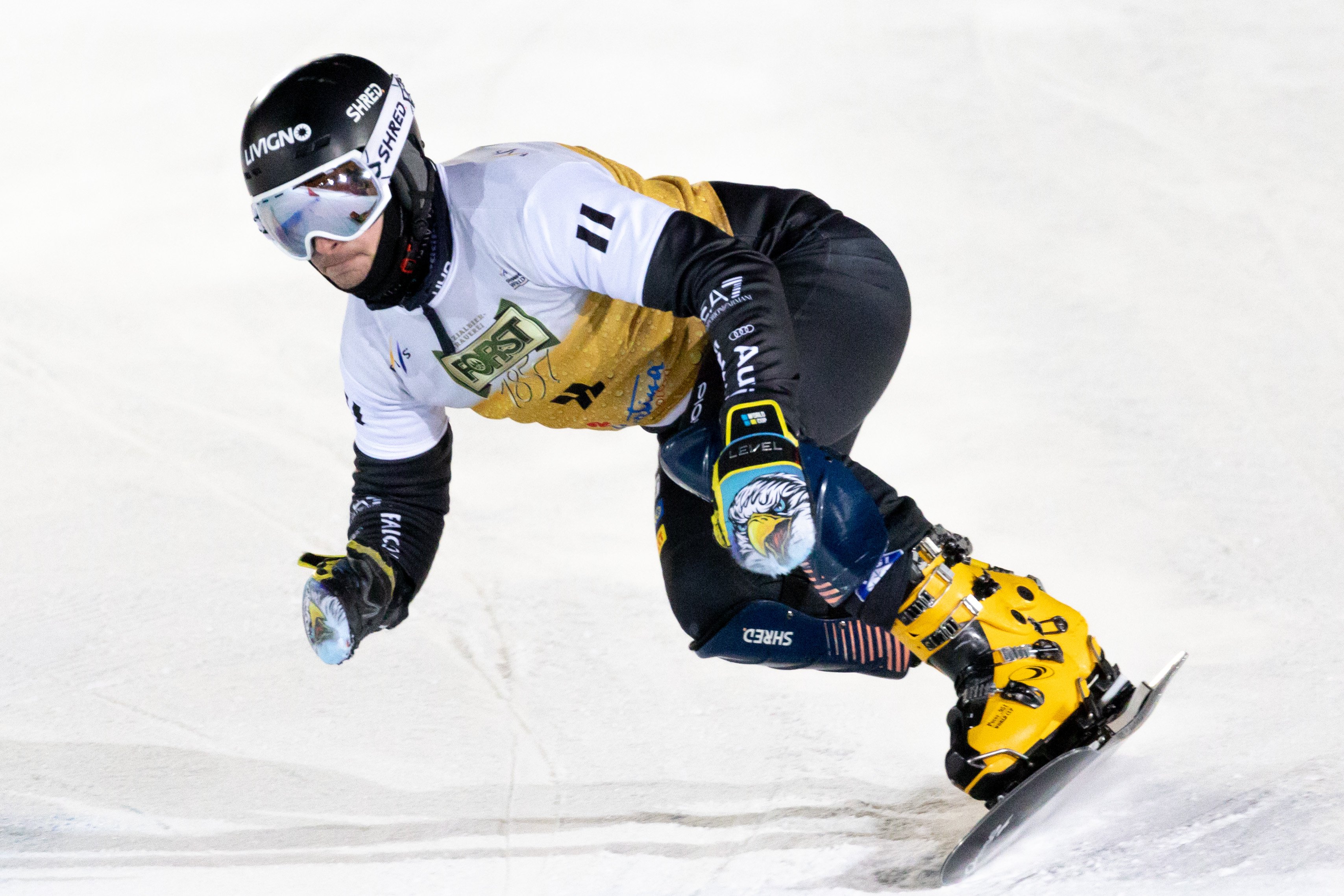 At the bottom of Livigno, just before the Forcola pass, there was (and still is) the Palipert ski lift, a small facility, a little outside the town centre and far from the main slopes.
At the time, they allowed you to use their technical snowboarding equipment without paying rent, and so, in a very short time, I became a faithful frequenter of their slopes.
I wore them out, going down and up: it was the best thing that had ever happened to me.
I started training with the snowboard club, which included athletes participating in FIS competitions and some European Cup stages, but I didn't get my first bib until I was 12 years old.
Which happened in Funes, Trentino. And it was my first victory.

Growing up in the mountains, however, the age of choice comes earlier than elsewhere, and when I finished secondary school I was faced with a crossroads, like almost everyone of my generation.
Either go to study in Bormio and commute to Livigno and my snow, or give up on sport, which at that age no one really gives you the confidence to be worth anything. There was the possibility of going to the school in Malles, but it was in German and I wasn't very convinced.
I was almost on the verge of giving up.
Then, when I had already put my heart at rest, Professor Silvestri, another mythological figure from my childhood, intervened like a saint.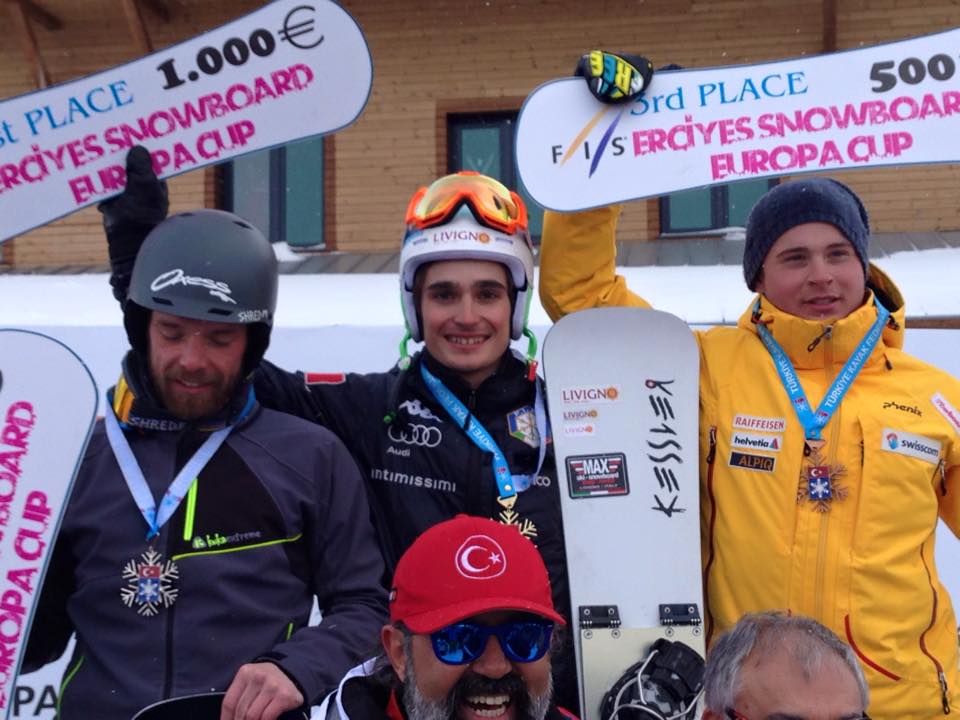 Professor Silvestri is one of those people who, as a child, you take a bit for granted, but when you grow up he comes to mind every five minutes, because you really begin to understand his value.
He was the middle school PE teacher, and he was capable of making you passionate about anything. He made us do everything, from athletics to basketball, from acrobatics to skiing, but always with seriousness, with care for technique.
With the will to really leave something behind. I loved his lessons.
So when he found out I had doubts about what to do and that I was considering quitting, he helped me find a school where sport and study were combined, in Falcade, thus saving my career.
And a large part of my happiness.
It was there that I became an athlete for real, and it was thanks to those years that I reached the gates of the World Cup.

My World Cup debut was an explosion of joy.
The perfect storm, where everything aligned as if by magic, even though there was so much work and effort behind the magic.
The year before I had won the European Cup, and I was in a state of mind of absolute equilibrium, which only now that I am more mature do I realise is not normal. That would be too easy.
Physically I was at the top, I was flying in training, strong from my youth.
And I had both the knowledge that I could go fast in the race as well, and the lightness of knowing that no one really expected anything from me. It's the ideal mix to get going, especially in a sport where the one who doesn't make mistakes wins, but where you still have to go down hard.
It's the sport of the 99%, because you always have to leave yourself a little margin to avoid making mistakes.
That start there had led me to believe that the podium and success were really within reach.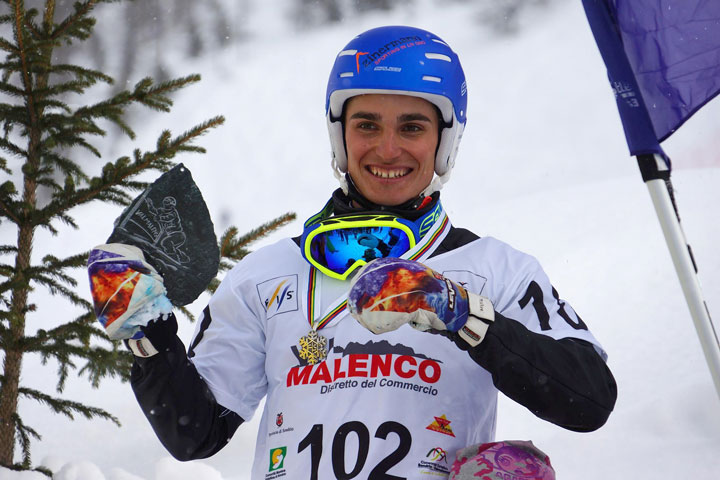 It didn't turn out that way.
I discovered that sport is delicate, and things can find creative ways to go wrong. There are injuries, there are bad moments. And I, over the course of the seasons, have not missed a thing.
It is a game of responsibility, between the physical and the spiritual, which sometimes expresses itself in mysterious ways. Once, for example, after the World Championships in Sierra Nevada, my backpack was stolen. And inside that backpack I had the last pair of my favourite boots, which were no longer in production. I was desperate.
I had to switch to a new product, made from the same mould, but with a different material. I was still young, inexperienced, and my mind focused on that detail. On that small inconvenience. I couldn't think of anything else.
In training I could ignore it, but in competition I could not, and suddenly I lost the feeling for the board.
I spent months searching for the lost feeling, chasing something I thought I had left forever inside a stolen duffel bag. I was exhausted, worried, maybe just eager to stop. I clung with my nails to older memories and the love of the board I had as a child.
Today I know that the problem was not the boot. I know that the boot was fine.
Today I know that it was the expression of a deeper unease of mine, of a balance to be found, and that it no longer belonged to me. Like when you are no longer so comfortable with a person and even the smallest things start to get on your nerves. The sound of laughter, the mess in the house, the taste in television.
My love for snow was put to the test, many times, and it was only by clinging to the memory of the beginnings that we stayed together.
To having wanted it. To feeling it mine.
Between an ACL and a broken foot, I have reminded myself that this is what I have chosen for myself, and that nothing and no one, as a child, could ever make me give it up.
I changed many things, from the materials to the training, but above all I changed myself, to try to give myself a moment of absolute happiness, on the snow at home.
We all know that the Olympics are coming to Livigno.
We know that they will be right behind the garage, on the lawn where I used to unload my brother's trials bike. We know that our people, our audience, our unique snow will be there. And I would love to be there too, with a bib and not in the stands, to give that little boy who ran away to Palipert every afternoon, one last moment to live. One more reason why it is worth dreaming.