The
1,816 meters of altitude
allow Livigno to provide the
best athletes on the planet
with the perfect stage for their competitive training. The
largest open-air alpine gym
is homeland of
altitude training
, which has become an integral part of the training of every professional sportsman.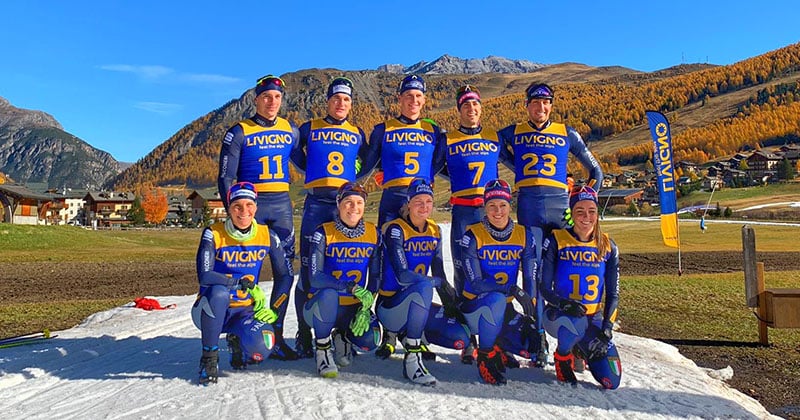 The height improves the sports performances, and to the rarefaction of oxygen, the body answers with a higher concentration of red blood cells, which leads to a competitive advantage, for a dope free effect. This works in all disciplines, in particular those of endurance not necessarily 'on the track', for example swimmers such as Federica Pellegrini, Simona Quadarella, Margherita Panziera, Gregorio Paltrinieri, Gabriele Detti and the rest of the big FIN chose Aquagranda Active You from Livigno from mid-September to mid-November to prepare for the 2020 Tokyo Olympics.

Winter is approaching and Livigno has already opened a real snow ring for all the cross-country skiers of the Italian national team and not only, since in addition to the Italians. to train in the Little Tibet there are also the French sprint team and Teams from Czech Republic, Germany, Estonia and the Central Alps Committee. Team A ranks the stars Federico Pellegrino, Stefan Zelger, Maicol Rastelli, the other spearheads Francesco De Fabiani, Giandomenico Salvadori, Greta Laurent, Elisa Brocard who did so well last season, Lucia Scardoni, Anna Comarella and Caterina Ganz. In Livigno also the extraordinary Norwegian led by Therese Johaug, Ingvild Flugstad Østberg, winner of the crystal cup, Heidi Weng, Lotta Udnes Weng, Ane Appelkvist Stenseth, Tiril Udnes Weng, Anna Svendsen, the Slovenian Anamarija Lampic who trains with the Italians and the German Katharina Hennig. Not only cross-country skiers training in the Little Tibet, also the biathletes Jakov Fak - two world gold medals for the Croatian naturalized Slovenian - and the Estonian Grete Gaim.
Among the under 20s there are also Anna Rossi, Michele Gasperi, Francesco Manzoni, Giovanni Ticcò, Riccardo Bernardi, Matteo Ferrrari, Luca Sclisizzo, Matteo Betta, while among the under 23 - under the command of coach Pietro Piller Cottrer - there are Cristina Pittin, Rebecca Bergagnin, Martina Bellini, Francesca Franchi, Martina Di Centa, daughter of Giorgio and nephew of Manuela, Nicole Monsorno, Valentina Maj, Emilie Jeantet, Simone Daprà, Lorenzo Romano, Martin Coradazzi, Paolo Ventura, Davide Graz, Luca Del Fabbro, Stefano Dellagiacoma.

The winter season has therefore already begun, in Livigno the amount of Olympic and world medals is countless and the Livigno inhabitants live and breathe with the athletes, fully embracing the project to deliver the keys of the city to the best sportsmen on the planet.