Snowshoeing and ski mountaineering are two activities that allow you to experience the mountains in freedom, without "leaving trace" and to reach easily distant places otherwise inaccessible in winter. They are really fascinating sports that give a strong sense of fulfillment and freedom, but they also require experience and preparation to be practiced.
To meet the needs of all those who want to start practicing snowshoeing or ski mountaineering, Livigno has created the "managed trails", which offer everyone the opportunity to start in more controlled areas, where it is difficult to get lost, and objective dangers are constantly monitored.
If you are a beginner and you are fascinated by this world, we recommend that you be accompanied by an Mountain Guide, who will be able to give you useful advice on equipment, technique and the risks you might encounter.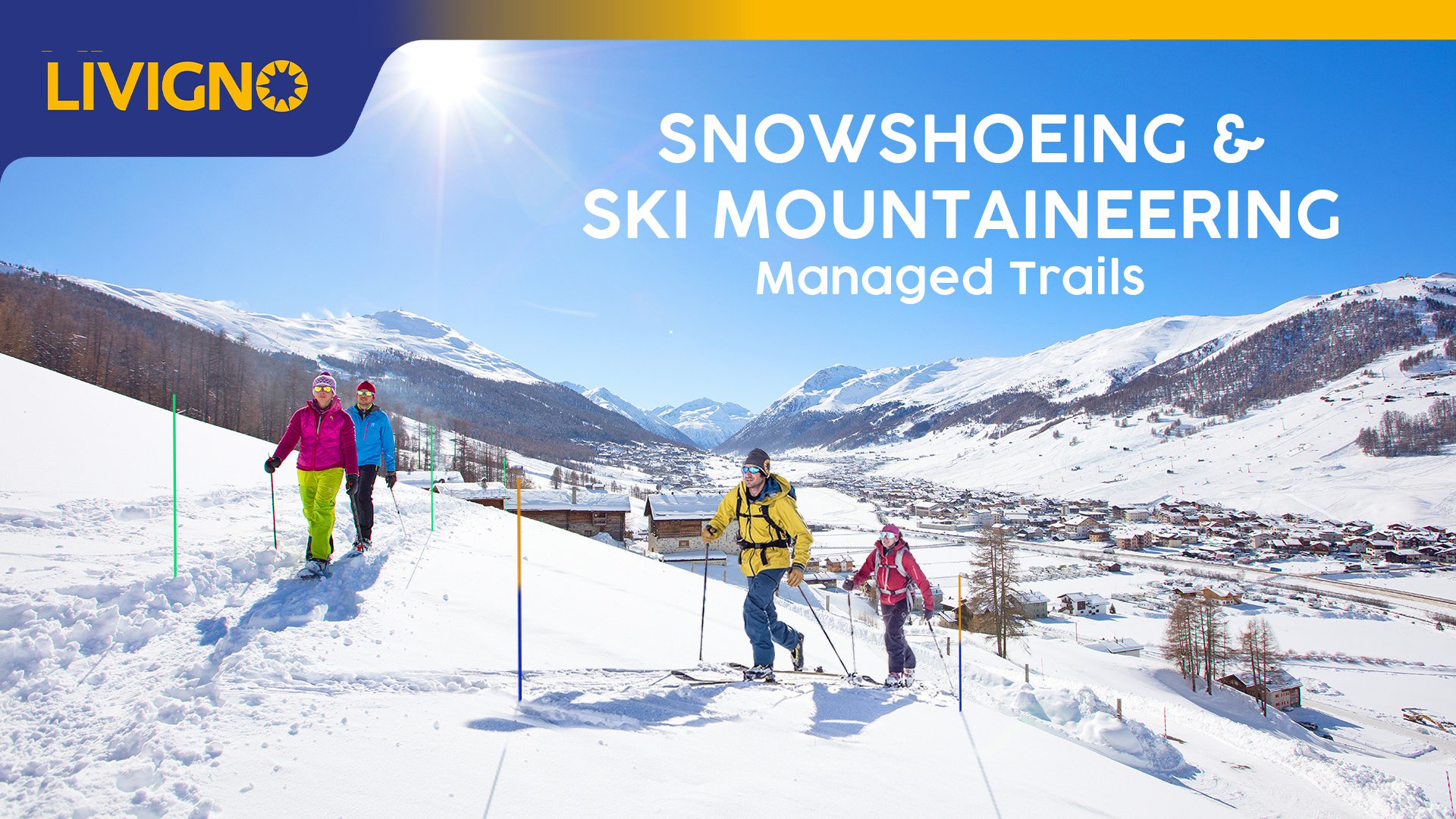 The managed routes are located far from the facilities and allow you to live experiences in full contact with nature. They are ideal for those who want to begin to engage in these disciplines, but it will not be difficult to find some athlete in training or those who like to go alone in the breaks from work.
Specifically, the managed routes, are real tracks, marked by poles (green/yellow for snowshoeing and blue/orange for ski mountaineering) and have the advantage of being constantly monitored and beaten at each new snowfall, this allows you to keep controlled the snowpack and close the paths in case the conditions do not allow to carry out the activity safely.
SNOWSHOES
Snowshoes are a very ancient tool that has always allowed man to float on the snow to reach places where there was no road. Even today the principle remains the same, if we are in a mountain resort and we want to enjoy the muffled silence of the woods in winter, snowshoes are the simplest, most practical and fascinating tool that you can try.
Modern snowshoes are comfortable and easy to use, they are quickly attached to the boots and with the help of poles we can start to take our first steps and explore.
In order to be able to make an excursion with snowshoes it is important to use the right equipment, jacket and ski pants not too heavy, gloves and cap, a mountain boot and of course snowshoes and poles.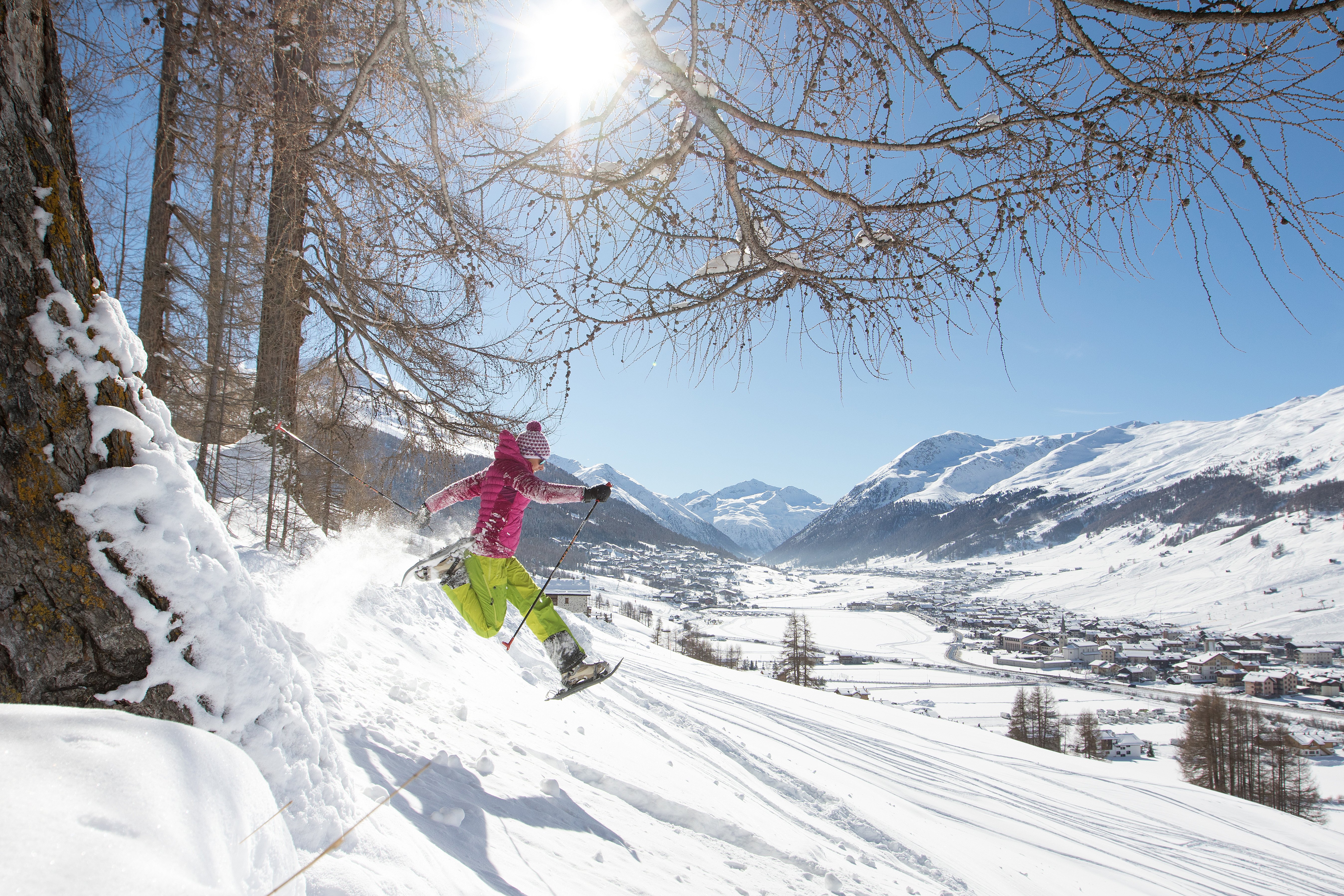 In Livigno there are seven managed trails that can be covered independently, without the need to use self-rescue equipment such as a backpack with a snowshoe, shovel and probe. These routes have the advantage of being easily traceable through a special green sign that allows you to "navigate by sight", if this is not enough, you can find the GPS track on the website Livigno.eu.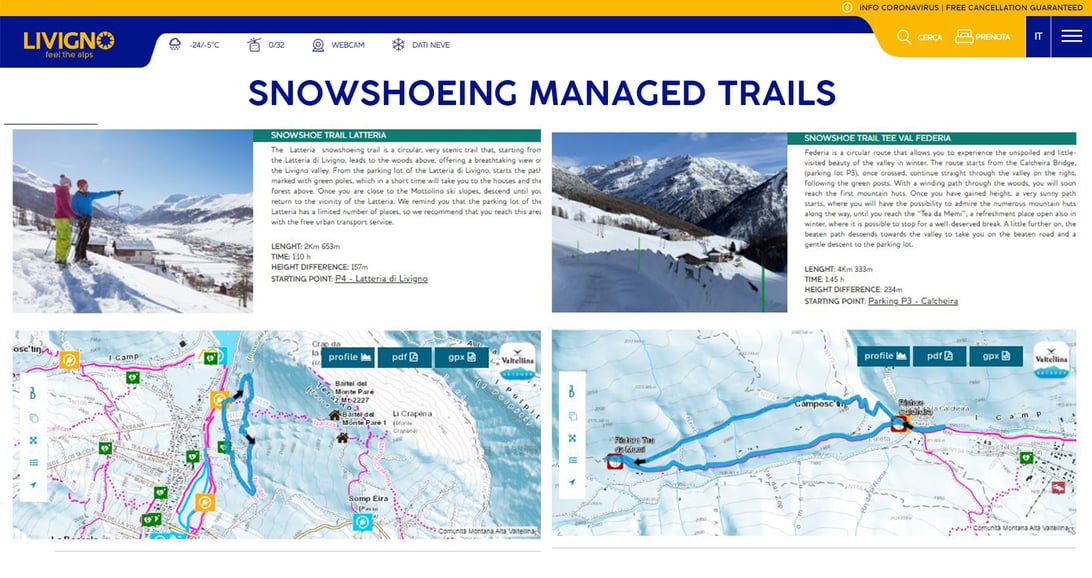 If you are a beginner, and do not feel ready to walk the managed routes independently, we recommend that you rely on the expert advice of Mountain Guides, they can accompany you along our routes or recommend the route and equipment best suited to your needs.
The paths for snowshoeing are located throughout the territory from the lake area until almost the Forcola pass, are of varying difficulty, able to satisfy all tastes.
SKI MOUNTAINEERING
Ski mountaineering is the winter sport that can offer you the freedom to reach remote places, with your own strength, and then enjoy fantastic off-piste descents. In Livigno we have 150kmq of uncontaminated territory, skiable almost entirely with ski mountaineering skis. If you are expert ski mountaineers, here you will not get bored!
If you are curious about ski mountaineering and you already know how to ski, then we suggest you to start this sport on one of our managed trails. For ski touring, you need to have the appropriate equipment with you, a light ski with an appropriate binding, a ski touring boot, "seal" skins, and a backpack with all the self-rescue equipment you need to know how to use. You can rent all this in the sports stores and rentals of Livigno, click here for the complete list.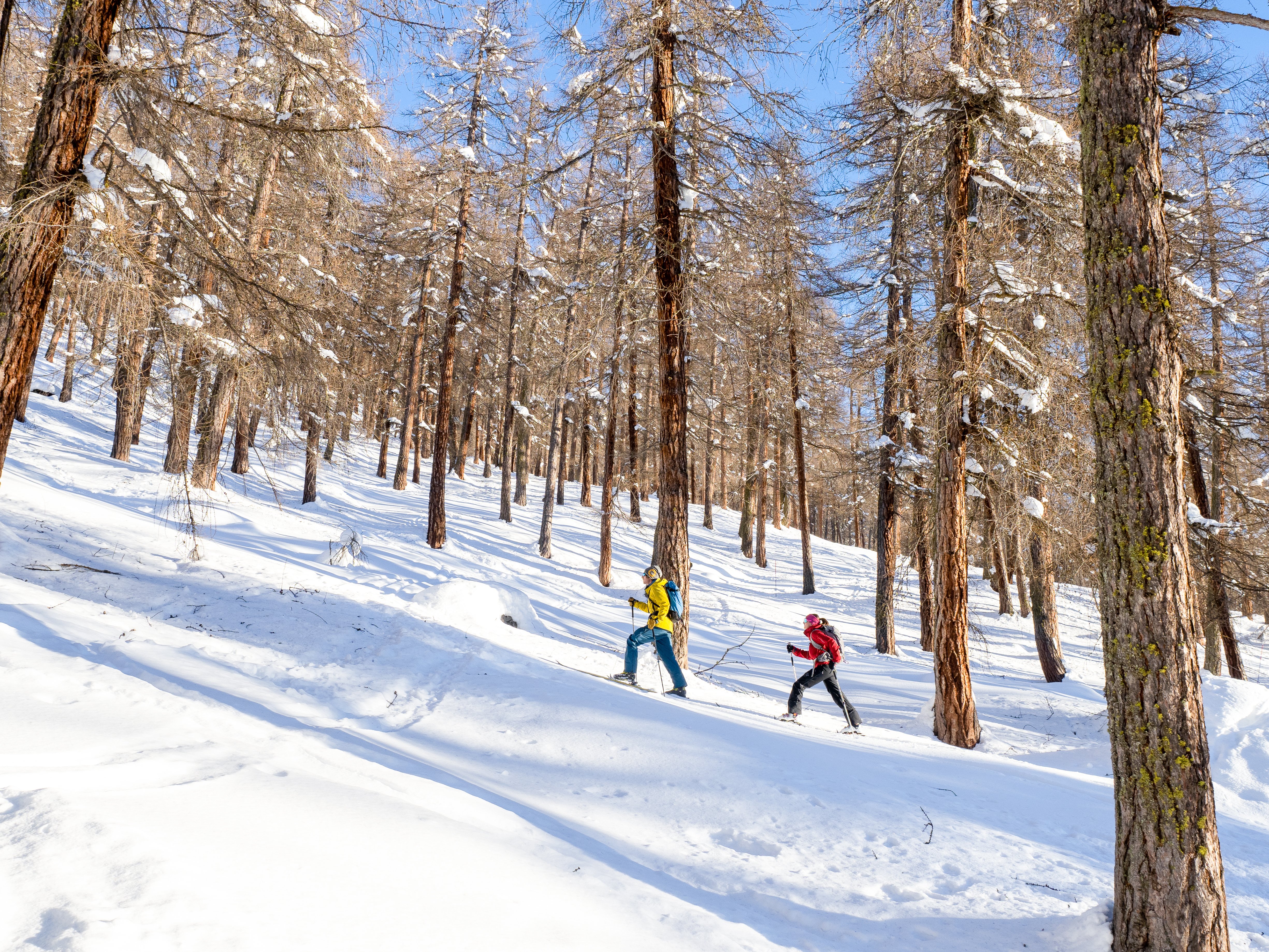 Livigno offers four managed routes for ski mountaineering, of different lengths and difficulty, they are marked by blue/orange poles and almost all allow the descent from the ski slopes in order to facilitate even the less experienced this most critical phase. The more experienced can try off-piste descents near the line of ascent.
The managed routes are constantly monitored and beaten at every new snowfall, this allows to keep monitored the snowpack and to close the routes in case the conditions do not allow to carry out the activity safely.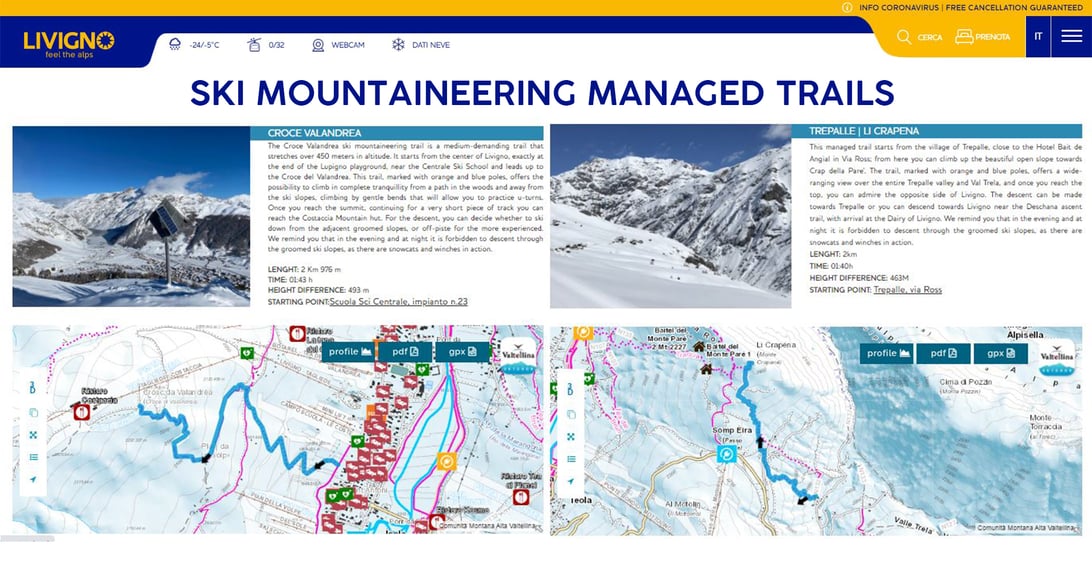 The attention must always be maximum, and it is a good rule, before leaving, to check the snow and weather report that you can find HERE.
In the ski mountaineering tour it's always compulsory the self-rescue material, the backpack with A.R.T.V.A. shovel and probe, that you must know how to use. If you have any doubts or need further information, please contact the Mountain Guides of Livigno who will be able to indicate the best solution for your level of experience.
THE 6 GOLDEN RULES FOR FREERIDING
Find below the 6 golden rules for going off-piste:
Find out about snow and weather conditions from your local bulletin (www.livigno.eu).
Bring with you the self-rescue equipment: shovel, avalanche transceiver and probe, if you go off-piste are mandatory! If you don't know how to use them, ask the Mountain Guides.
Always ski with caution and awareness. You are the only responsible!
Wear a helmet and always ski with at least one companion for more safety and fun.
If you don't feel safe, don't hesitate to turn to the professionals (Mountain Guides).
In case of an accident, call 112 immediately.