Relax with a multi-sensory Aufguss experience guided by our sauna masters, meditate whilst engaging both your body and mind under the starry sky the night of San Lorenzo, or even treat yourself to a regenerating scrub. These are events from June to August at Aquagranda that you simply must not miss during your stay in Livigno.
Aquagranda is one of the highest sports centres above sea level in Europe, where fun, sport and relaxation coexist, a real open-air gym covering 10,000m2 that attracts sportsmen and women and national teams from all over the world, specialising in a range of disciplines. This - and so much more - is Aquagranda Active You!, a sports and wellness centre in step with the times that brings together all the necessary services for lovers of sport indeed, but not only.
For summer 2019, there are so many appointments in the Wellness&Relax area, specifically for those of our visitors wishing to take a real holiday focussing on wellbeing indeed, but also those who want to recover and build up their energy levels after a sports packed day.
Aufguss experience in the Finnish sauna
Don't miss out on the Aufguss experience in the Finnish sauna, held in association with AISA, Associazione Italiana Saune Aufguss (the Italian Aufguss Sauna Association) every day at 4pm, 5.30pm and 8.30pm.. Aquagranda welcomes true sauna experts and masters, who guide guests in experimenting with special Aufguss rituals and entertain them with a real show.
Regenerating scrub and sound bath in a salt water tub
As of 7pm, you can indulge in a scrub in the Turkish steam room at Aquagranda, while on Wednesdays and Sundays at 6pm you're invited to let yourself be carried away in a world of pure relaxation with the special 'sound bath' in the salt water tub accompanied by Tibetan bells, koshi and cymbals.
Relax until midnight
Well-being and relaxation are guaranteed until midnight every Wednesday throughout the summer, with late night closure of the Wellness&Relax area, where guests can relax after a full day of outdoor activities.
Meditation under the stars
Aquagranda organises a special meditation session under the shooting stars during the long-awaited night of San Lorenzo, inspired by the theme of wishes. Evenings of pure relaxation during which participants will recover not only their physical well-being but that of the mind and spirit, too.
Themed evenings
For 5 Wednesdays, the entire Wellness&Relax area will turn into one of the five continents during which the ambience, music, food, wellness rituals and Aufguss scrubs will be devoted to the continent chosen for that particular evening.
Temporary exhibition of Vania Cusini's artwork
Aquagranda is art and culture, too. Indeed, from 25th June to 30th September, the Wellness&Relax area will host "WOODvibes, WELLNESSvibes: nature, art and wellbeing merge together to give life to a timeless journey". This is a temporary exhibition of Vania Cusini's artwork which will be inaugurated on 25th June at 6p.m..Guests entering after 5.30p.m. will receive a 50% discount and be able to take part in the inauguration and spend time in the Wellness&Relax area.
This year, Aquagranda has introduced Family Sauna and Family Hammam for those who have chosen Livigno for a holiday with the whole family but still want to relax. This consists of a sauna and Turkish steam room where everyone can relax together, so parents can convey their importance and benefits to their children.
Additionally, every day (except Mondays) little ones can enjoy themselves in the Slide&Fun area with qualified animators who will entertain them with games, music and dancing. From 4-6p.m., parents can take advantage of the babysitting service and focus on wellness and relaxation in other parts of the centre.
Besides the calendar of events and appointments that focus on wellness, Aquagranda is preparing to open a 6-lane athletics track in the Run&Play area in July. The track is surrounded by a rampart covered in vegetation to protect runners from the wind, and immersed in the breathtaking panorama of the Italian Alps. The track will enable athletes to train at 1816m a.s.l., taking advantage of the altitude and favourable climate from May through to November. In 2010, a Finnish track will complete the area, which is not completely flat but consists of climbs, descents and curves and has been designed especially for runners. This special track is formed of a base of spongy material covered in a thick layer of sawdust which makes running or walking pleasant and elastic. This new area will also feature a full-sized, real grass football pitch, that will also be ready as of summer 2020, and all the equipment (already available as of this year) for practicing a range of disciplines such as the hurdles, javelin throwing, shot put and 3000m steeplechase.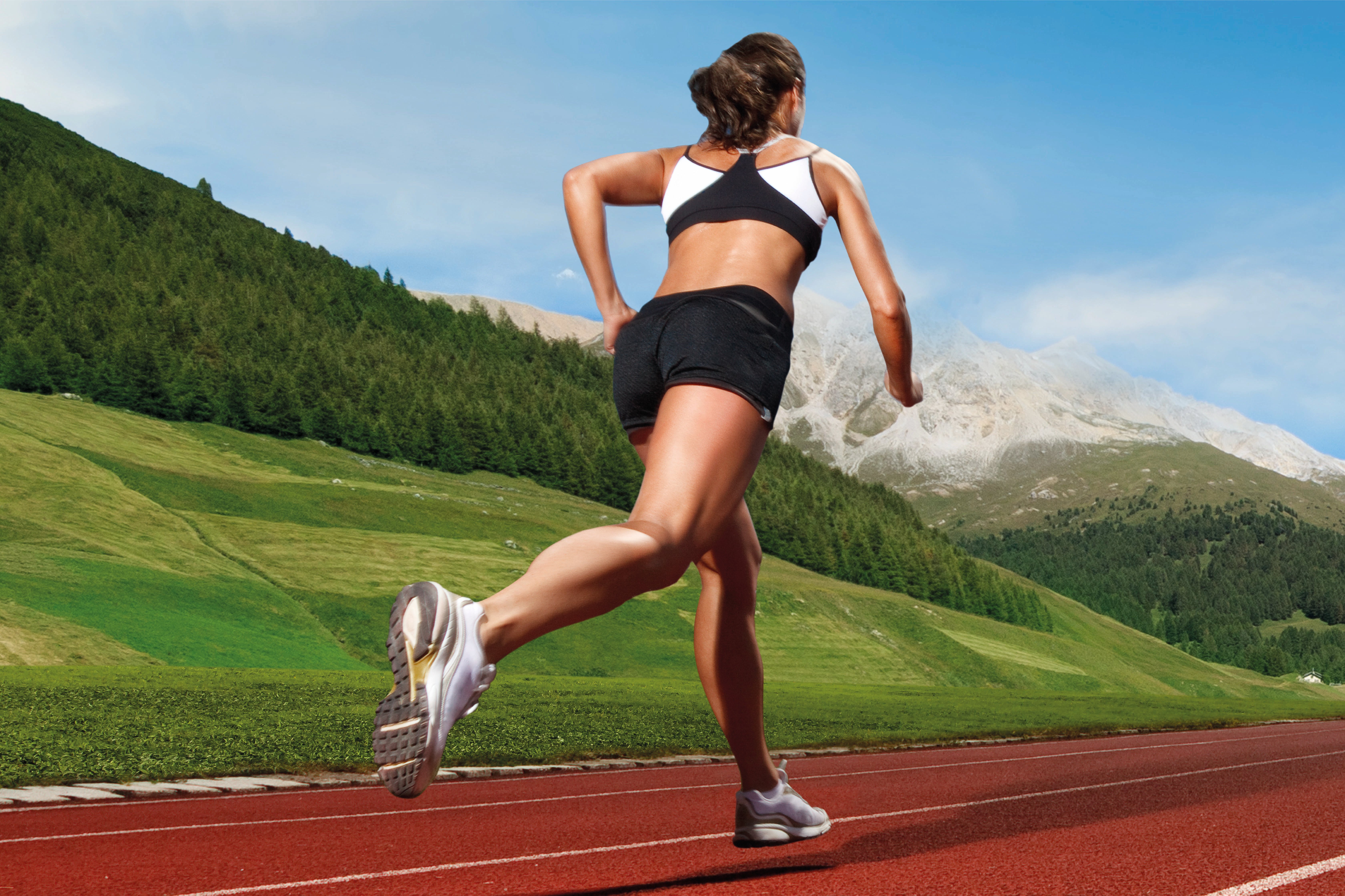 .