For all mountain lovers, Livigno is the ideal destination to live experiencesunforgettable experiences with the family surrounded by unspoiled nature: a unique and fascinating in which to combine relaxation, fun and sports - both for adults and children - throughout the summer period.

Little Tibet, which has always been recognized as an Alpine excellence for outdoor experiences, is the perfect destination for families who wish to enjoy the mountains in the summer, spending their stay in a safe and child-friendly environment. To best accommodate every family, Livigno offers the option of booking into "Family" facilities, where services are designed to make the most of their vacation are available.
From July 16 to 22 will be active the Family Week - Kids Go Free, a week dedicated to the family: by booking a hotel stay during this week, the first child (up to 12 years) will get a free stay, while the second will get a 50 percent discount. Those who will book an apartment, will get a 15% discount on the total. All children will have free access to the Kinder Club Lupigno, where they can participate in recreational activities.
Livigno thus confirms itself as a "family friendly" destination, with various activities designed to turn every stay into an exciting family adventure discovering the valley and its traditions. Among novelties and must-haves, here are 5 activities not to be missed to spend some "quality time" with the family and make your stay in the treasure chest of the Valtellina.
Family hikes
For those who want to fully immerse themselves in nature and get in tune with the environment, Livigno offers a rich program of walks suitable for everyone, allowing you to gain altitude thanks to the ski lifts.
Together with mountain guides, it will be possible to discover the treasures of the surrounding valleys - including the Val Nera waterfall, Val Saliente, Val Federia, Val Alpisella and Val Tort - appreciating scents and colors, characteristic flora and fauna and, most importantly, the view once you reach the summit. There will also be no shortage of opportunities to enjoy typical dishes thanks to the various refreshments
present on the trails. In addition, to fully enjoy the tranquility of the mountains, Livigno has made available available Check&Go, a quick and easy way to choose the best trail for your own hike even before departure. In fact, at the entrance of the trails are positioned panels with QRCode: by framing it, the check-in will be done and it will be possible to check the turnout on the different trails.


All in the saddle!
Little Tibet features a dense network of roads and trails to discover on two wheels! Qualified instructors and guides will be available to young and old at the Bike Skill Center to give advice on the best trails to experience on your own, on the best planned excursions but also to provide tricks for the little ones on how to use a bike. All mountain bikers can venture out among the trails at BIke Park Mottolino, Carosello 3000 and mountain area SITAS, divided according levels of difficulty, but also choose to participate in one of the guided MTB tours, suitable for everyone, that allow you to reach some of the most most scenic spots in Livigno.
For those who prefer to experience a peaceful excursion in nature, the perfect solution is the bike path, which is about 17km long and runs along the entire Livigno valley.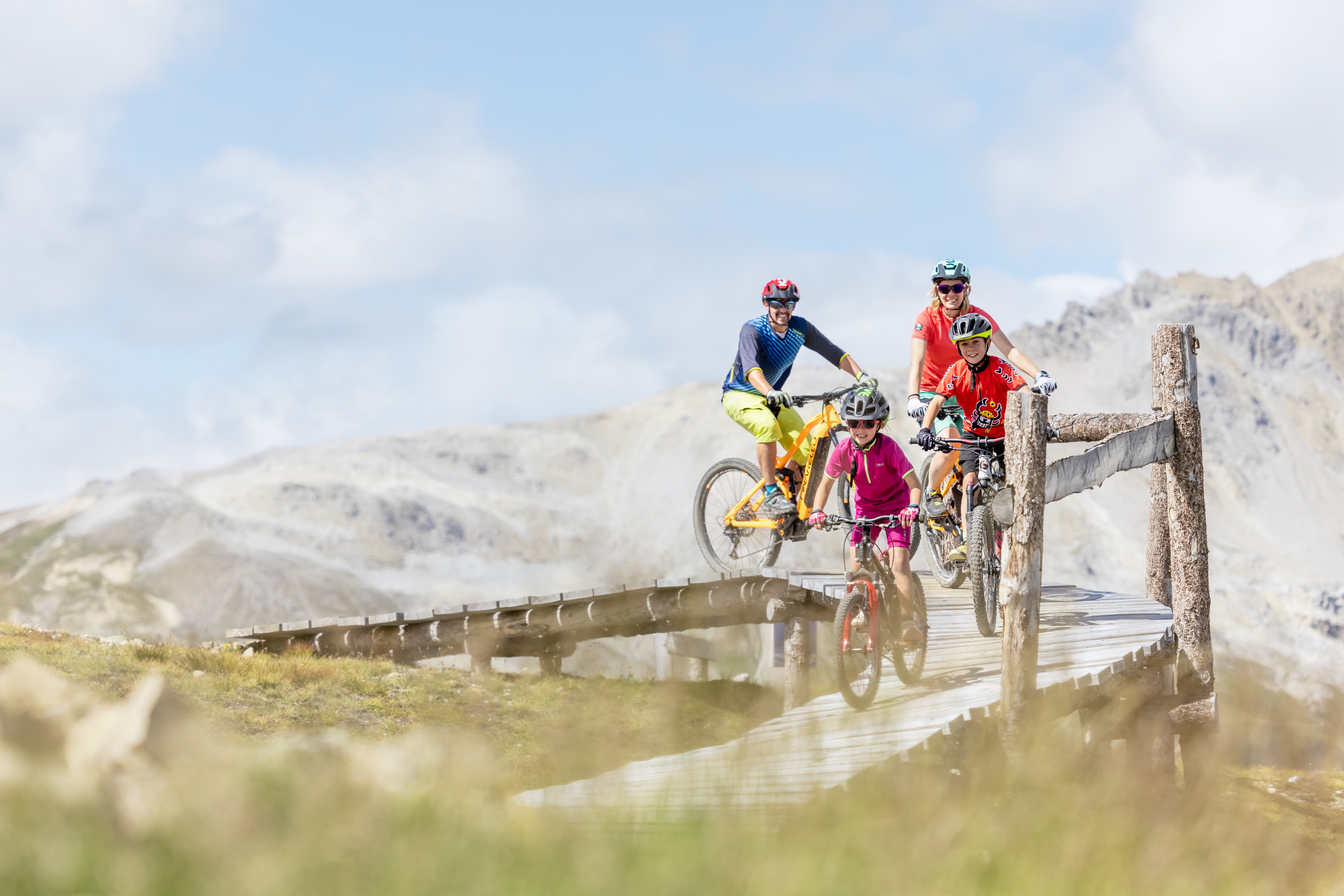 A dip in Aquagranda
Aquagranda is a place of pure fun for all ages! It offers the opportunity for children to have fun - together with mom and dad - among slides, water jets, whirlpools and a pool baby. Parents can choose to enjoy a fun time with their children, or to enjoy some relaxation on their own by requesting the babysitting service available on site. Thanks to the connection with the Bar&Bistro, it will be possible to enjoy healthy dishes for a poolside lunch or a tasty aperitif.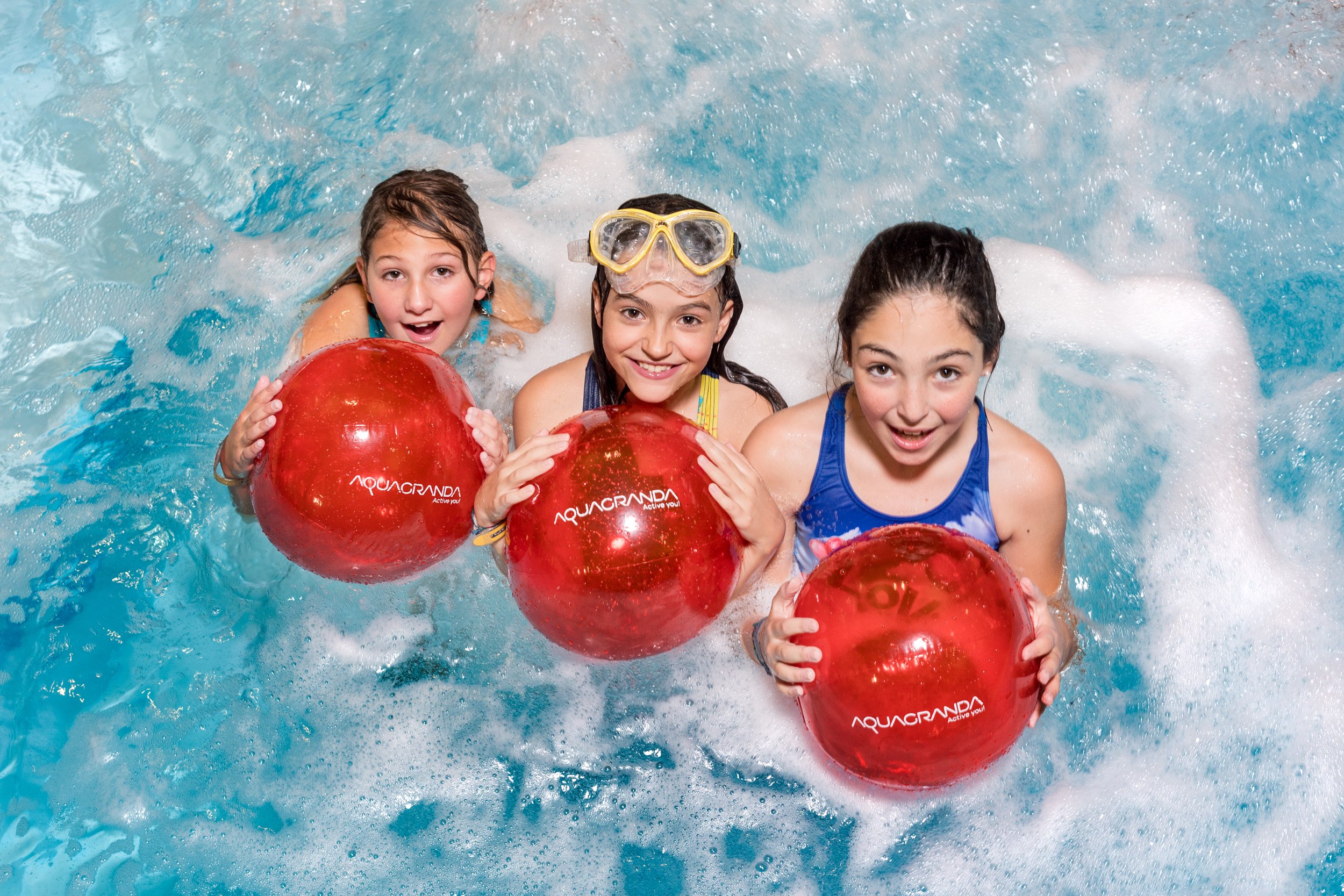 Adventures for all
Little Tibet offers several options for spending a day of adventure: Larix Park is an adventure park with 8 suspended courses, a succession of ropes, pulleys and lianas that allow children and adults to explore and play in contact with nature; the Kids Adventure Area, located outside the Carosello 3000 hut, is perfect for getting entertain and stimulate children's motor skills with balancing games, bouldering and adventure trails, as well as a dedicated mini-bike area and a construction site area - in a mini-size - with tractors and shavings.
For those looking for pure adrenaline, there is Avventurando: a trail in the Val of Mines, crossing rivers, alpine canyons, trails... A real adventure surrounded by unspoiled nature, to be experienced with the whole family and accompanied by a qualified mountain guide.