Since a couple of days in the meadows of Livigno, a huge tricolor heart stands out between two hands. It is the last work of two local artists, which brings with it a special message after the isolation.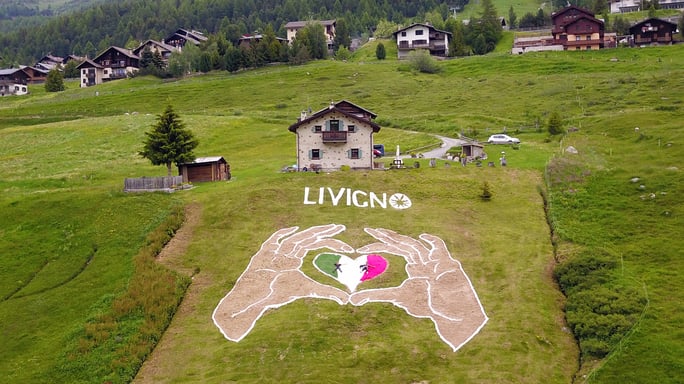 The two artists,
Vania Cusini,
from Livigno, and
Marta Zucchinali,
from Bergamo, represented
"WE LOVE OUR LAND!
", Measuring
25x20 meters
, on the ridge along the Spöl River which snakes all along the Livigno valley.
The
love for our nation and friendship
have encouraged them to meet again and collaborate with positive energy and desire to "get their hands dirty". This is the message that the two Lombard artists who made this Land art work created free of charge, want to communicate.
"This meeting between us means a lot, indeed
after the isolation
that has been imposed on everyone in the world, we had a phone call and discussed about the shared desire to leave our artistic mark:
a symbol of rebirth, in the hope that nothing will be forgotten.
"
It is a
restart dictated by heart and courage.
A simple message, but one that encourages us to have
confidence in human relationships again,
after a period of
forced inactivity that expresses love for our work and our land.
Visit and photograph this huge work of art, book your holiday in Livigno, at incredible prices and without commissions: