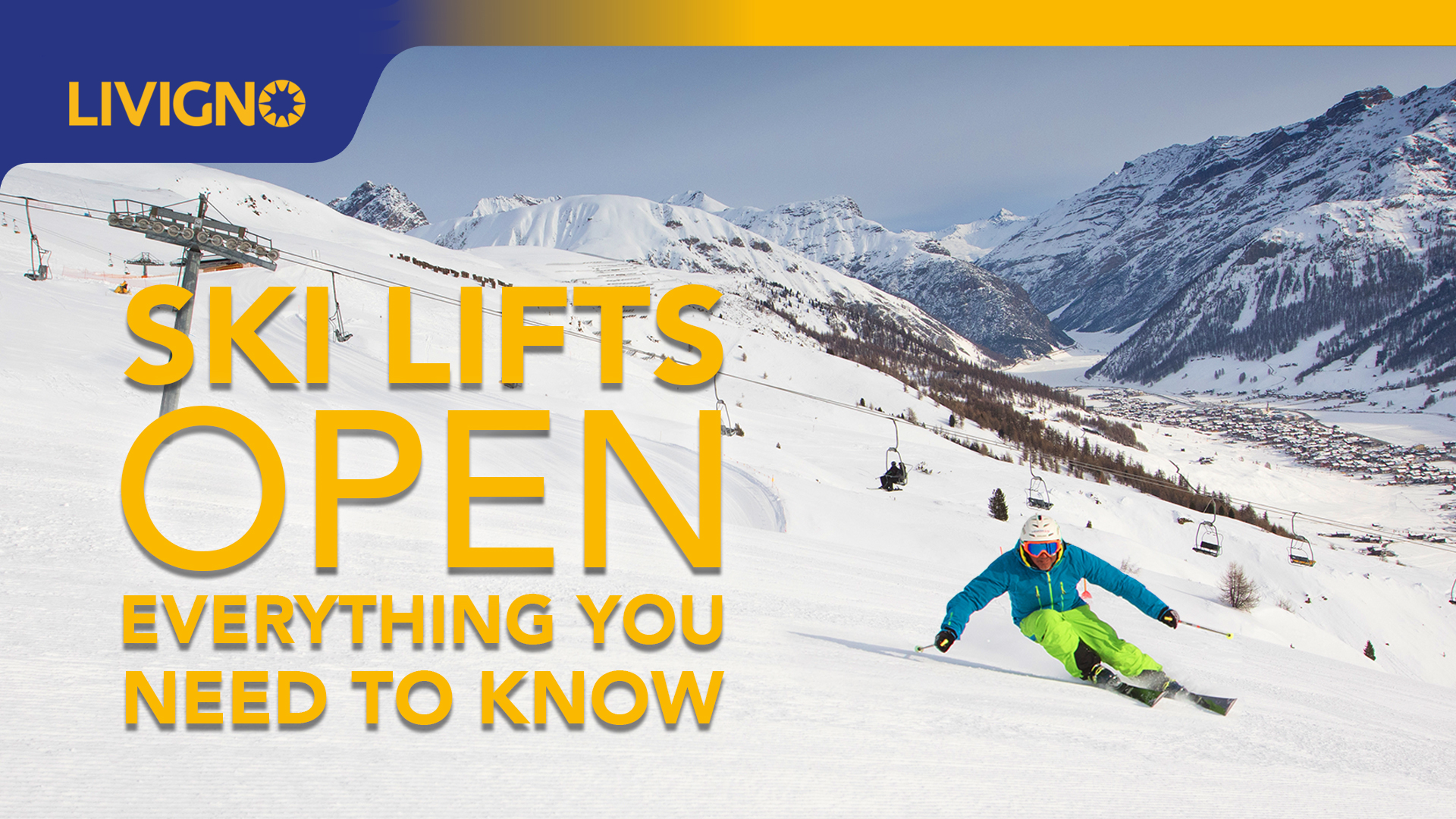 ATTENTION! IMPORTANT UPDATE
It is with regret that we communicate, following the ordinance signed by Italian Minister Speranza this evening, 14th February 2021 at 19:00, the CLOSURE OF THE SKI LIFTS until 05th March 2021.

We are disappointed. In these days we worked tirelessly to prepare slopes, lifts, hotels, shops, restaurants. We think that the mountain deserves more respect.

Updates will follow



It has been a difficult beginning of the season, made of continuous promises and continuous postponements, which required many sacrifices from everyone, but that finally allows us to return to almost normal life and to host you on our snow white slopes.
The snow that fell this winter was a lot, it reached almost 4 meters, and thanks to this we can guarantee you natural snow at least until May!
The opening of the lifts was possible thanks to the observance of the new habits maintained until now, we ask you to make a little more effort and adapt to the news that will also be in the world of skiing.
Below is a small guide to help you better orient yourself with the ski lifts opening:
When will the lifts open?


ATTENTION: UPDATE. Ski lifts are closed till 05.03.2021

The lifts will open on Monday, February 15TH, thanks to the confirmation that the Lombardy Region is in the yellow zone. To access the lifts the use of a surgical mask and the maintenance of interpersonal distances of at least 1 meter will be mandatory .

At this link, starting from Monday 15th, you can see in real time which lifts will be open: https://www.livigno.eu/en/ski-lifts.
Can I come on holiday to Livigno?

Entry into Italy is permitted without any special justification if you came from Foreign Countries that are in the "C List" of the Italian Health Ministery.

Almost all EU countries are in the "C List", (except Austria, UK and Northern Ireland which are in the "E List" with mandatory quarantine upon arrival)
Included in the "C List" are currently also Switzerland, Norway, Iceland, Liechtenstein, Andorra, San Marino, Vatican City and Monaco.

To enter Italy, in the case of a stay or transit from countries on List C in the last 14 days, in addition to filling out a self-declaration, a molecular or antigenic test is required, which is carried out with a swab and a negative result in the 48 hours before the Entry into Italian territory.

For more details please visit www.livigno.eu/en/info-coronavirus
For more detailed information, please see the website of the Ministry of Foreign Affairs
You can also fill in the interactive questionnaire, which may help to provide guidelines for your specific situation.
Which behaviors should I adopt on the lifts?


The use of the surgical mask is compulsory and the maintenance of interpersonal distances must be of at least 1 meter, even between members of the same family.
The capacity of the Cable Cars and Chairlifts with bubble is reduced to 50%, which means that if the cable car usually carries 10 people, only 5 will now be able to ride it at a time; if the chairlift has a capacity of 6 people, only 3 will be able to ride it at a time, and so on. Charilifts without the bubble will work at its 100% seats capacity.
We kindly ask you to respect the rules, keeping the mask on and keep a distance of at least 1m with other people. The lift operators will show you how to get around, we ask for your cooperation to make everyone's day as pleasant as possible.
How can I buy the ski pass?
The ski pass can be purchased online here, starting from Saturday 13 February, and can be purchased up to 7 days in advance.

Ski passes purchased online can be picked up at one of the many pick-up points


Points of sale of the ski lifts
Directly at the hotel if equipped with ticketing system pickup point
Or at the automatic cash machines present here:

- Carosello 3000 cable car (lift n.11)
- Mottolino cable car (lift n.3)
- Gondola Livigno Centro - Tagliede (c/o skipass ticket office located under the restaurant tagliede)
- Botarel chairlift (lift n.29a)
- Skipass office (c/o Aquagranda, via Rasia 999)

Access to the lifts will also be possible thanks to the pay-per-use service offered by Telepass, My Pass Ski and Telepass Pay. Seasonal ski passes can instead be purchased only at the Skipass Office, while regional ski passes will not be available this year.
Are hotels, apartments and shops open?
Of course, apartments, hotels and shops are open and ready to welcome you. To find out which businesses are open and their opening hours, we kindly ask you to download the My Livigno App.
Hotels and apartments offer a free cancellation policy for those who wish to book their holiday in advance. Hotels offer free cancellation of your stay until the day before arrival without having to prove any reason. In apartments, instead, you can cancel your stay up to seven days before your arrival, without having to prove any reason; from the seventh day until the day before, the cancellation is free only for proven Covid. Find out more: FREE CANCELLATION FOR YOUR HOLIDAY IN LIVIGNO.
Are bars and restaurants open?


Bars and restaurants are open from 01.02 with table service until 18:00 (maximum 4 people per table or family). Take away and delivery service for restaurants is active until 22:00 and will allow you to receive delicious dishes or gourmet products at home or in hotel/apartment. The take away and delivery service for bars is active until 18:00.
Discover here the complete list of delivery restaurants.
Can I do the Covid-Test in Livigno?
For ski holidays that are as safe as possible, it is also important to keep the health situation monitored, day after day. To meet this important need and to protect the health of workers, residents and visitors, Livigno has equipped itself with rapid hygiene tests that can be performed in emergency situations or uncertainty by going to the point specifically set up at the Aquagranda Active You! centre. It is possible to book the test by contacting the number: 0342 970277.

For tourists who need PCR test, you can contact these two medical clinics (not in Livigno):
>>Morbegno: Multilab Soluzioni Diagnostiche Avanzatetel: 0342 1949401
>>Piantedo: Affidea Valtellinese Radiological Center https://www.affidea.it/i-centri/affidea-centro-radiologico-valtellinese/
Do you need more information?
Discover our INFO CORONAVIRUS page